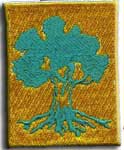 The
1st Golani Infantry Brigade
, often referred to simply as the
Golani Brigade
(Hebrew: חֲטִיבַת גּוֹלָנִי‎) is a mechanized infantry brigade in the
Israel Defense Forces
. The bridge was founded in 1948 and it is one of the IDF's most highly decorated units. The brigade is subordinate to
36th Infantry Division)
in
Northern Command
.
The brigade was founded in 1948 and fought during the War of Independence. The brigade initially fought in northern Galilee but transferred to the southern front and fought in the Negev. After the war, while several other brigades were reorganized as reserves, the Golani remained an active duty formation.
In 1956, during the Sinai Campaign, the Golani Brigade was assigned to capture the Rafah area, in order to provide Israeli armored forces with a clear road into Egyptian territory.
In 1967, during the Six Day War, Golani troops fought in the Jordan/Syria sector. In Nablus they took part in house­-to­-house fighting, while on the Golan Heights the brigade was involved in heroic battles at Tel Azizyat and Tel Fahr.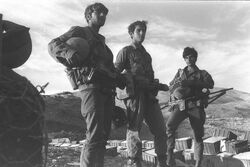 In 1973, during the Yom Kippur War, the Golani Brigade fought a series of bloody battles against Syrian ground and air forces on Mount Herman in the northern sector of the Golan Heights.
In 1975, the brigade was designated as an elite unit and has thereafter been considered the premier infantry unit into which young Israels wish to serve.
In 1976, members of Sayaret Golani participated in Operation Thunderbolt (a.k.a. Operation Jonatan) which rescued hostages from Entebbe, Uganda.
In 1982, during Operation Peace for Galilee, Sayaret Golani commandos assaulted and captured Beaufort Castle in Southern Lebanon. The castle would remain a strategically important outpost in Israel's security zone.
Organization
Edit

1st
Golani
Infantry Brigade
12th "Barak"/"Lightning" Infantry Battalion
13th "Gideon" Infantry Battalion
51st "HaBoki'm HaRishonim"/"First Breachers" Infantry Battalion
"Egoz"/"Nut Tree" Reconnaissance Battalion (Anti-guerilla Special Forces)
Special Troops Battalion

Anti-tank Company
Engineer Company
Sayeret 95th "Flying Tiger" Reconnaissance Company: the elite unit of the Golani Brigade

351st Signal Company
Notable equipment
Edit
The Golani Brigade's equipment includes a number of heavy IDF Achzarit armored personnel carriers, which is built around a remanufactured T-55 tank chassis with a new 850 hp (630 kW) engine. The Achzarit is a very heavily-armored vehicle designed for the requirements of urban fighting, after Israeli M-113 APCs proved insufficiently armored against car bombs, mines, and rocket-propelled grenades.
Ad blocker interference detected!
Wikia is a free-to-use site that makes money from advertising. We have a modified experience for viewers using ad blockers

Wikia is not accessible if you've made further modifications. Remove the custom ad blocker rule(s) and the page will load as expected.