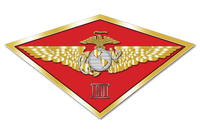 The 3rd Marine Aircraft Wing (3rd MAW) is the major west coast aviation unit of the United States Marine Corps. It is headquartered at Marine Corps Air Station Miramar, California and provides the aviation combat element for the I Marine Expeditionary Force. The wing is made up of a headquarters squadron, four flying groups, an aviation command and control group and an aviation engineering group.
3rd Edition Location
Edit
Stationed: Yuma, Arizona

The 3rd Marine Air Wing was moved from San Diego, California to its current location at Yuma, Arizona do to the strikes done by the Chinese Nukes.
Ad blocker interference detected!
Wikia is a free-to-use site that makes money from advertising. We have a modified experience for viewers using ad blockers

Wikia is not accessible if you've made further modifications. Remove the custom ad blocker rule(s) and the page will load as expected.