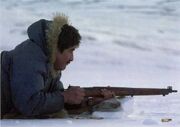 The Canadian Rangers are a reserve sub-component of the Canadian Forces, which provide a limited military presence in Canada's sparsely settled northern, coastal, and isolated areas. Formally established on May 23, 1947, the main duty of this volunteer, part-time force is to conduct surveillance or sovereignty patrols (SOV PATS) as required. Some Canadian Rangers also conduct inspections of the North Warning System (NWS) sites. Each Canadian Ranger is issued a red Ranger sweatshirt, armband, baseball cap, and a safety vest, and in some northern remote areas, snowmobiles. The Rangers are a fully volunteer force made up largely of Inuit. Members of the Rangers are only paid when on training and special missions.
The service rifle of the Canadian Rangers is the Lee Enfield No. 4 rifle (a World War Two era, .303 caliber, bolt action rifle). During peacetime, each ranger was issued with 200RD of ammunition annually.
Notes and references
Edit
Native Canadian Ranger Regiment - GDW Challenge magazine #32
Ad blocker interference detected!
Wikia is a free-to-use site that makes money from advertising. We have a modified experience for viewers using ad blockers

Wikia is not accessible if you've made further modifications. Remove the custom ad blocker rule(s) and the page will load as expected.