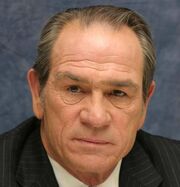 Taken from this post at forum.juhlin.com
Occupation: Commander-In-Chief of the Papal Armed Forces
Strength: 7
Constitution: 8
Agility: 4
Education: 5
Intelligence: 5
Charisma: 4

Richard Thornton was born in Los Angeles, California; on May 26, 1936 and served in the United States Army for over 31 years. Since his entry on active duty in November 1954 he served in virtually every non-commissioned officer leadership position. His career took him through CONUS assignments, two tours in Europe, three tours in the Republic of Vietnam and two tours in Panama. His units of assignment include the 6th Infantry in Berlin; 14th Armored Cavalry Regiment, Germany; 82nd Airborne Division, Fort Bragg, North Carolina; 5th Special Forces Group, Republic of Vietnam; 8th Special Forces Group, Fort Gulick, Panama Canal Zone; US Army Jungle Operations Training Center, Fort Sherman, Panama Canal Zone; 1st Infantry Division, Fort Riley, Kansas; Texas A&M University ROTC, Texas; 2nd Ranger Battalion, 75th Infantry, Fort Stewart, Georgia; Special Forces Detachment (Airborne) Europe, Germany; and the United States Army Forces Command, Fort McPherson, Georgia. After his retirement from the army, Thornton became a part-time security consultant with Archdiocese of Los Angeles, California. In 1998 Thornton was installed as the Captain General of the Holy See; the de facto commander-in-chief of the papal armed forces.
1x Baton of command (blessed by the pope)
1x Swiss Army Snow goggles
1x Flecktarn Chest Rig

Ad blocker interference detected!
Wikia is a free-to-use site that makes money from advertising. We have a modified experience for viewers using ad blockers

Wikia is not accessible if you've made further modifications. Remove the custom ad blocker rule(s) and the page will load as expected.