The DAF YA-4442 is a 4x4 truck in service with the Netherlands military.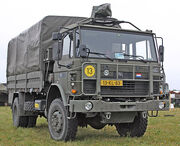 Twilight 2000 1st edition vehicle statistics
Edit
From NATO Vehicle Guide (GDW 0256)
The Dutch firm of DAF manufactures a number of tactical transport vehicles, of which the 4x4 YA-4442 is typical. It and similar vehicles by the same manufacturer have been adopted by several European armies, including the British forces in the BAOR (British Army of the Rhine). The vehicle can be fitted with a weapons mount (NATO heavy tripod - NHT - equivalent) but is not normally armed.
Price: $20,000 (C/S)
Tr Move: 160/15
Com Move: 55/10
Fuel Cap: 280 liters
Fuel Cons: 70 liters
Fuel Type: D, A
Load: 4 tons
Veh Weight: 8 tons
Crew: 2
Mnt: 8
Ad blocker interference detected!
Wikia is a free-to-use site that makes money from advertising. We have a modified experience for viewers using ad blockers

Wikia is not accessible if you've made further modifications. Remove the custom ad blocker rule(s) and the page will load as expected.