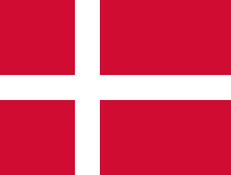 Denmark is a country in the Scandinavian region of northern Europe and a the senior member (with Greenland and the Faroe Islands) of the Kingdom of Denmark. It is the southernmost of the Nordic countries. The mainland is bordered to the south by Germany; Denmark is southwest of Sweden and south of Norway. Denmark borders both the Baltic and the North Sea. The country consists of a large peninsula, Jutland (Jylland) and many islands, most notably Zealand (Sjælland), Funen (Fyn), Vendsyssel-Thy, Lolland, Falster and Bornholm as well as hundreds of minor islands often referred to as the Danish Archipelago. Denmark has long controlled the approach to the Baltic Sea, and these waters are also known as the Danish straits.
Denmark's armed forces are known as the Danish Defence. During peacetime, the Ministry of Defence in Denmark employs around 33,000 in total. The main military branches employ almost 27,000: 15,460 in the Royal Danish Army, 5,300 in the Royal Danish Navy and 6,050 in the Royal Danish Air Force (all including conscripts). The Danish Emergency Management Agency employs 2,000 (including conscripts), and about 4,000 are in non-branch-specific services like the Danish Defence Command, the Danish Defence Research Establishment, and the Danish Defense Intelligence Service. Furthermore around 55,000 serve as volunteers in the Danish Home Guard.
Ad blocker interference detected!
Wikia is a free-to-use site that makes money from advertising. We have a modified experience for viewers using ad blockers

Wikia is not accessible if you've made further modifications. Remove the custom ad blocker rule(s) and the page will load as expected.