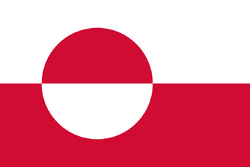 Greenland is a member country of the Kingdom of Denmark located between the Arctic and Atlantic Oceans, east of the Canadian Arctic Archipelago. Though physiographically and ethnically an Arctic island country and geographically a part of the continent of North America, politically and historically Greenland is associated with Europe, specifically Iceland, Norway, and Denmark. In 1979, Denmark granted home rule to Greenland, making it an equal member of Rigsfællesskabet. Greenland is, by area, the world's largest island that is not a continent in its own right.
All towns and settlements of Greenland are situated along the ice-free coast, with the population being concentrated along the Western coast. At least four scientific expedition stations and camps had been established in the ice-covered central part of Greenland, on the ice sheet: Eismitte, North Ice, North GRIP Camp and The Raven Skiway.
Ad blocker interference detected!
Wikia is a free-to-use site that makes money from advertising. We have a modified experience for viewers using ad blockers

Wikia is not accessible if you've made further modifications. Remove the custom ad blocker rule(s) and the page will load as expected.