The Heckler & Koch HK21 is a general purpose machine gun.
The HK 21 was developed in 1961 by small arms manufacturer Heckler & Koch and based on the 7.62 mm G3 automatic rifle. It fires the 7.62x51mm NATO rifle cartridge.[1]
Variants
Edit
MG21 licence manufactured in Mexico by SEDENA
M/968 license manufactured in Portugal by Fábrica do Braço de Prata
HK11A1 automatic rifle, optimized for magazine feed only, 7.62x51mm NATO caliber
HK13E light machine gun, magazine fed, 5.56x45mm NATO caliber
HK23E light machine gun, belt-fed, 5.56x45mm NATO caliber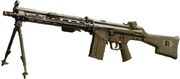 Notes and references
Edit
Ad blocker interference detected!
Wikia is a free-to-use site that makes money from advertising. We have a modified experience for viewers using ad blockers

Wikia is not accessible if you've made further modifications. Remove the custom ad blocker rule(s) and the page will load as expected.