The following page(s) contains fictitious world events as background material for the Twilight:2000 role-playing game. These events should not be confused with their real life counterparts. People and places shown should in no way be thought of as accurate representations of anything living, dead or undead.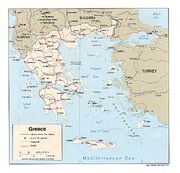 Greece is a country in southern Europe.
Geography
Edit
Greece (Greek: Ελλάδα, transliterated: Elláda, historically Ἑλλάς, Hellás), officially the Hellenic Republic is a country in southeastern Europe, situated on the southern end of the Balkan Peninsula. It has borders with Albania, Bulgaria and Yugoslavia (The Republic of Macedonia) to the north, and Turkey to the east.
The Aegean Sea lies to the east and south of mainland Greece, while the Ionian Sea lies to the west. Both parts of the Eastern Mediterranean basin feature a vast number of islands.
Twilight 2000 1st edition canon
Edit
Greece has left NATO and the European Union and is currently engaged in hostilities with Turkey.
See also
Edit
Ad blocker interference detected!
Wikia is a free-to-use site that makes money from advertising. We have a modified experience for viewers using ad blockers

Wikia is not accessible if you've made further modifications. Remove the custom ad blocker rule(s) and the page will load as expected.