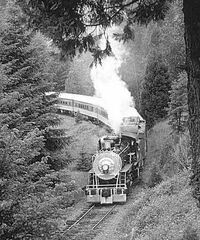 After a great deal of restoration, a pair of steam railroad engines are able to take to the rails again. This mode of transport will revitalize the Front Range and is an important first step toward recovery. However, not everyone wants things to change. In addition to run-of-the-mill marauders, the well-armed and dangerous Collectivists from the
People's Republic of Boulder
(PRB) wants to stop the trains on their way from Pueblo to Fort Collins. The PCs are hired on as security to make sure the inital run carrying vital medicines makes it all the way there.
The module is broken up into areas through which the PCs must pass. Obstacles in their way include marauders, damaged rails, weak bridges, and fallout zones. Of course, the PRB isn't just going to let them go their merry way without a fight, either.
Ad blocker interference detected!
Wikia is a free-to-use site that makes money from advertising. We have a modified experience for viewers using ad blockers

Wikia is not accessible if you've made further modifications. Remove the custom ad blocker rule(s) and the page will load as expected.