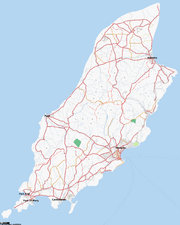 The Isle of Man, or Mann, is a self-governing Crown Dependency, located in the Irish Sea at the geographical centre of the British Isles. The head of state is Queen Elizabeth II, who holds the title of Lord of Mann. The Crown is represented by a Lieutenant Governor. The island is not part of the United Kingdom, but as one of the British Islands foreign relations, defence, and ultimate good-governance of the Isle of Man are the responsibility of the government of the United Kingdom.
Ad blocker interference detected!
Wikia is a free-to-use site that makes money from advertising. We have a modified experience for viewers using ad blockers

Wikia is not accessible if you've made further modifications. Remove the custom ad blocker rule(s) and the page will load as expected.