The following page(s) contains fictitious world events as background material for the Twilight:2000 role-playing game. These events should not be confused with their real life counterparts. People and places shown should in no way be thought of as accurate representations of anything living, dead or undead.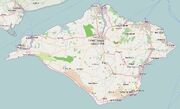 The Isle of Wight is a British island and county in the English Channel between three and eight km from the south coast of the English mainland. It is situated south of the county of Hampshire and is separated from mainland Britain by the Solent.
Places of interest
Edit
Ad blocker interference detected!
Wikia is a free-to-use site that makes money from advertising. We have a modified experience for viewers using ad blockers

Wikia is not accessible if you've made further modifications. Remove the custom ad blocker rule(s) and the page will load as expected.