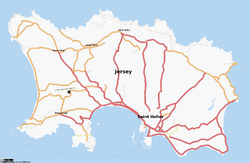 The Bailiwick of Jersey is a British Crown dependency off the coast of Normandy, France. As well as the island of Jersey itself, the bailiwick includes the nearly uninhabited islands of the Minquiers, Écréhous, the Pierres de Lecq and other rocks and reefs. Together with the bailiwick of Guernsey it forms the grouping known as the Channel Islands. The defence of all these islands is the responsibility of the United Kingdom. However, Jersey is part of neither the UK nor the European Union; rather, like the Isle of Man, it is a separate possession of the Crown.
Ad blocker interference detected!
Wikia is a free-to-use site that makes money from advertising. We have a modified experience for viewers using ad blockers

Wikia is not accessible if you've made further modifications. Remove the custom ad blocker rule(s) and the page will load as expected.