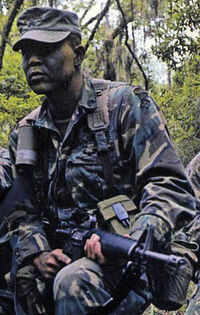 Name: Dregg, Lucas L.
Rank: Sergeant
DOB, POB, Nat: Jan. 1st 1979, Wilmington NC, American
Branch: Rangers
Specialty: Infantryman
Height: 5' 10"
Weight: 68 kg
Race: African American
Parents: John (43) - Mill Worker; Lucinda (41) - Waitress
Siblings: Marcus (23) - KIA
Attended school and was a kid 0 - 12.
Quit school to supplement family income. Worked various jobs in the tourist type place of Wilmington, mostly *sports/recreational related - launch hire, stupid horse and trap things for rich tourists 13 - 16.
Eventually found his calling in joining the Army a couple of years after his brother was drafted (or joined).
Stationed at Fort Benning, Georgia for basic training and then Ranger training. Acquired the sobriquet "DogMeat" for being a black kid, trying out for the Rangers, and being a patriotic volunteer.
Alignment: Lawful Good - except for Commies.
Arrived in Europe maybe a year after the start of the war, and has served almost continually since then. Has not yet been seriously wounded but spent various time off for R&R and minor wounds.
Received the news of his brother's death on the Russian front (assuming there is one) about 6 months ago. A Lt. Easley was his CO, and to be returning to (base of operations) where Lucas was going to arrange to meet him. But, things were turning for the worse by then, and never worked out.
He had undertaken to meet the Lt., and also to pass the news on to his folks, but hasn't done so yet, not knowing what happened, and having had little opportunity.
Learned a little German and Russian during service, and is primarily fighting because it is the good fight, and to protect the American way. And maybe other stuff.
Nickname "DogMeat" given to him by a Ranger named "Ace" during training. "Ace" flew out shortly afterward, and then his corpse flew back, so Lucas decided to stick with "DogMeat", and leave the cool names to the dead guys.
He takes his job as point man pretty seriously, and will point out that 'Rangers lead the way' to anyone trying to enter a burnt out building before him.. etc.
Ad blocker interference detected!
Wikia is a free-to-use site that makes money from advertising. We have a modified experience for viewers using ad blockers

Wikia is not accessible if you've made further modifications. Remove the custom ad blocker rule(s) and the page will load as expected.