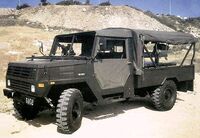 The M462 Abir is a multipurpose high performence 4x4 military vehicle in service with the Israel Defence Forces (IDF).
The Abir can carry 13 troops or 1800kg cargo. The standard model is fitted with 1 forward machinegun mount (NHT equivilent) and 1 side machinegun mount (NHT equivalent). The vehicle can be used to transport troops/cargo, as a platform for anti-tank or anti-aircraft missiles, or as a platform for the M40A2 106mm recoilless gun.
The Abir was developed by Israeli defense contractor Automotive Industries Ltd. (AIL) as a replacement for the M325 Command Car.
Variants
Edit
There are several variants of the Abir in service with the IDF:
M462 Abir: standard model. [1]
M462 ATGM Portee: with TOW2 launcher.
M462 M40A2 Portee: with M40A2 106mm recoilless rifle.
Rhino: a 4x4 armoured vehicle based on the M462, used for high risk area patrol, riot control, special operations, and command post.
Fire: bush fire engine.
Ambulance: military ambulance, 4 litter cases or 8 sitting patients.[2]
Notes and references
Edit
Ad blocker interference detected!
Wikia is a free-to-use site that makes money from advertising. We have a modified experience for viewers using ad blockers

Wikia is not accessible if you've made further modifications. Remove the custom ad blocker rule(s) and the page will load as expected.