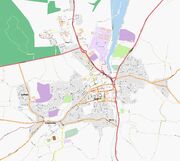 Newport is a town on the Isle of Wight, an island off the south coast of England. Prior to the war, Newport had a population of around 23,000. The town is situated slightly to the north of the centre of the island, at the head of the navigable section of the River Medina, which flows northward to the Solent, and on which the town has a quay.
The town's suburb of Parkhurst was home to three prisons before the war: the notorious Parkhurst Prison itself, Camp Hill, and Albany. In 1998, MI5 took over Albany, turning it into the Isle of Wight Reception Centre. Parkhurst and Albany were once amongst the few top-security prisons in the United Kingdom.
Ad blocker interference detected!
Wikia is a free-to-use site that makes money from advertising. We have a modified experience for viewers using ad blockers

Wikia is not accessible if you've made further modifications. Remove the custom ad blocker rule(s) and the page will load as expected.