Patrol Boats are armed and armored water-craft used by military and civilian law enforcement to guard rivers and harbors.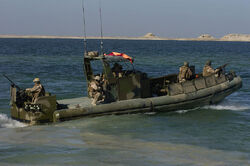 The small unit riverine craft (SURC) is rigid-hull, armed and armored patrol boat used by the US Marines and US Navy to maintain control of rivers and inland waterways.
General characteristics
Hull Type:
Aluminum with full length beaching plates
Collars:
High strength solid cell foam collar provides stability, redundant buoyancy, and small-arms ballistic protection
Length:
38′ (11.6m) (with transom platform)
Beam:
10′2″ (3.1m) (collars removable for C-130 transport)
Draft:
24″ (0.6m) static
Displacement:
22,000 lbs (9979 kg) combat load
Weight:
17,500 lbs (7938 kg) craft and trailer
Propulsion:
Twin Yanmar 6LY2A-STP diesel engines, 440 bhp at 3300 RPM;
Twin Hamilton waterjets HJ292
Fuel: JP-5, JP-8, and marine diesel #2
Speed:
35 knots cruise, 39 knots sprint
Acceleration:
Accelerate to 25 knots in less than 15 seconds
Turning:
Turn 180 degrees in less than three boat lengths
Range:
Greater than 250 nm
Crew:
2
Capacity:
16 troops
Weapons:
3 mounts for heavy machine gun and smoke launchers
Ballistic protection:
Propulsion system armored against mobility kill
Navigation:
Ritchie magnetic compass
Integrated AN/PSN-11 GPS (PLGR)
Raymarine SL72 LCD radar
ST 60 depth sounder
Communications:
Raymarine RAY53 VHF marine band radio
SINCGARS (VHF tactical) radio
and AN/VIC-3 internal stations
Ad blocker interference detected!
Wikia is a free-to-use site that makes money from advertising. We have a modified experience for viewers using ad blockers

Wikia is not accessible if you've made further modifications. Remove the custom ad blocker rule(s) and the page will load as expected.