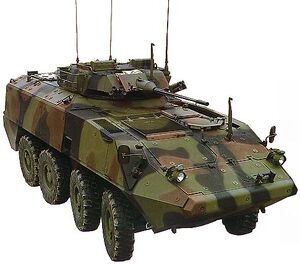 The Piranha is available in 4x4, 6x6, 8x8, and 10x10 wheel versions. There are several variants within these versions, giving different degrees of armour protection and several kinds of turrets, for use in a variety of roles. Piranha derivatives have been assigned roles as troop transports, command vehicles, fire support vehicles, tank trainers, and police vehicles.
Piranhas are used by the Swiss Army. Swiss-built Piranha derivatives have been exported to Sweden, Denmark, Ireland and Spain. Piranha derivatives have been manufactured under licence by General Dynamics (Canada), BAE Systems Land Systems (UK), Komatsu Limited (Japan), Cardoen and FAMAE (Chile), and in the USA.
The Belgian Army has selected the Piranha IIIC 8x8. It has decided to convert to all wheeled vehicles, simultaneously removing the current main battle tank, the Leopard 1, from the inventory. The Piranha is modern and armoured, but lacks the protection, firepower and mobility of a conventional tracked tank. In total 242 vehicles will be delivered, of which 104 optional.
M1126 Stryker ICV
Edit
The 8x8 US Army M1126 Stryker ICV vehicle is derived from the Canadian LAV III which in turn is based on the Piranha.
Mobility Features
Edit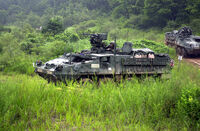 The vehicle can alter the pressure in all eight tires to suit terrain conditions: highway, cross-country, mud/sand/snow, and emergency. The system warns the driver if the vehicle exceeds the recommended speed for its tire pressure, then automatically inflates the tires to the next higher pressure setting. The system can also warn the driver of a flat tire, although the Stryker is equipped with run-flat tire inserts that also serve as bead-locks, allowing the vehicle to move several miles before the tire completely deteriorates.
Unlike many modern armored personnel carriers, the Stryker is not an amphibious vehicle, but watertight combat hatch seals allow it to ford water up to the tops of its wheels.
In August 2004, the US Air Force successfully air dropped an up-weighted Stryker Engineering Support Vehicle from a C-17.[1] This test to determine the feasibility of air dropping a Stryker MGS. Even though this test was a success, none of the Stryker variants have been certified for airdrop.
The Stryker is too heavy (19 - 26 tons, depending on which variant and which add-on features) to be lifted by existing helicopters.
3rd Edition Stats
Edit
M1126 Stryker ICV
Barter Value: GG1,000,000 Street Price: $2,000,000
Configuration: Crew In Hull
Suspension: OR
Crew: 2 (Driver, Commander)+9
Cargo: 1.8 tons
Weight: 16.5 tons
Travel Speed: 33/15 km/hr
Combat Speed: 97/42 m
Fuel: 200 (Diesel)
Fuel Cons: 35 L/hr
Maintenance: 14
Armor: HF: 10, HS:6, HR: 6; TF: 2, TS: 2, TR: 2; Suspension: 5
Equipment:
  Armament: Modular remote weapons mount (standard stabilization); None; None.
  Ammo: Dependent on mounted weapon; N/A; N/A.
  Communications: Military Vehicular Radio; tactical data link.
  Sensors: Headlights; night vision system (D); night vision gunsights (C).
  Aux: NBC defense system; self-recovery winch..
The LAV 25 family in service with the USMC is also derived from the LAV III. Some variants, like the United States Marine Corps's Light Armored Vehicle-25 (LAV 25) and its derivatives, are equipped with propellers for amphibious use, though their abilities are limited to sheltered waters.
The Australian Defence Force also has its own modified version of the Piranha known as the ASLAV. The ASLAV (Australian Light Armoured Vehicle) is operated by two cavalry regiments (the 2nd Cavalry Regiment and 2nd/14th Light Horse Regiment) and is used in the armoured reconnaissance and armoured personnel carrier roles.
↑ Stryker airdrop test. Retrieved on 2008-07-12.
Ad blocker interference detected!
Wikia is a free-to-use site that makes money from advertising. We have a modified experience for viewers using ad blockers

Wikia is not accessible if you've made further modifications. Remove the custom ad blocker rule(s) and the page will load as expected.