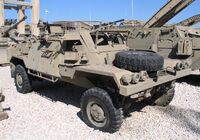 The RAMTA RBY is a light armored reconnaissance vehicle in service with the Israel Defence Forces (IDF).[1]
Description
Edit
The all-welded hull of the RBY Mk 1 has 8 mm thick armour steel (MIL-A-46100) sides inclined at an angle, and a floor of 10 mm thick plain carbon steel (SAE-1020).The shape of the hull has been designed to give the crew maximum possible protection from mines. The axles and wheels are at the extreme ends of the vehicle and the effect of a mine explosion when touched off by one of the wheels is that the respective axle is damaged or cut, the glass fibre bumpers disintegrate, but the hull stays intact. The ability of the vehicle to survive mine explosions was proved in a test programme using different types of mine.The driver is seated at the front of the vehicle on the left with the commander to his right. The front part of the crew compartment can be folded down into the horizontal for increased visibility and is provided with two integral observation hatches that are hinged at the top and open outwards. To the left of the driver and to the right of the commander is another observation hatch, also hinged at the top and opening outwards.The six passengers are seated three each side, facing outwards, back to back for all-round observation. There are no doors in the hull as this would weaken the structure and the crew enter and leave the vehicle by climbing over the sides.
3rd Edition Stats
Edit
RAMTA RBY Mk1 Light Recon Vehicle
Barter Value: GG32,500 Street Price: $65,000
Configuration: Standard
Suspension: Off Road
Crew: 3 (driver, gunner, commander)+
Cargo: 600 kg
Weight: 3.5 tons
Travel Speed: 35/10 km/hr
Combat Speed: 97/28 m
Fuel: 100 (Diesel)
Fuel Cons: 12 L/hr
Maintenance: 8
Armor: HF: 3, HS:2, HR: 26; TF: N/A, TS: N/A, TR: N/A; Suspension: 3
Equipment:
  Armament: Weapon mount (usually equipped with a general-purpose machine gun).; N/A; N/A.
  Ammo: As cargo.; N/A; N/A.
  Communications: Military Vehicular Radio; N/A.
  Sensors: Headlights; searchlight (G); N/A.
  Aux: Amphibious running gear..
Notes and references
Edit
Ad blocker interference detected!
Wikia is a free-to-use site that makes money from advertising. We have a modified experience for viewers using ad blockers

Wikia is not accessible if you've made further modifications. Remove the custom ad blocker rule(s) and the page will load as expected.