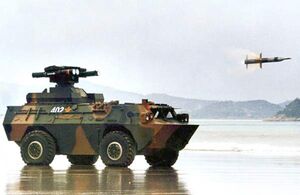 This is an anti-tank missile system in use with the Chinese People's Liberation Army.
Main Tactical and Technical Specifications of the Weapon System:
Edit
Max Range: 5000 m
Calibre: 152 mm
Weight of the tube contained missile: 37 Kg
Penetration: more than 1200 mm
Elevation: ± 10°; azimuth: ± 200°
High anti-jamming capability
Command transmission distance: < 5.5 km
Night fighting capability: detection, 4 km; recognition, > 2.5 km
Mounted on vehicle and helicopter
Complete technical support system
Thermal Imaging Sight
Detection Range: 4000m
Recognition Range: 2500m
Laser Transmission Unit
Command Transmission Range: 5500m
Vehicle with Red Arrow 9 Anti-tank Missile Weapon System:
Edit
Also take a look at our page Wz551.

Main Specifications
Combat weight: 13.75 tons
Total number of missile carried: 12 rounds
Searching range: azimuth, ±200°; elevation, ±10°
Missiles can be launched normally when the carrying vehicle is on the slop less than 10°.
Automatic and manual operating modes are designed for launch unit elevation, missile loading and launching tube disposal.
The periscope optical sight can find a target over 7 Km.
Ad blocker interference detected!
Wikia is a free-to-use site that makes money from advertising. We have a modified experience for viewers using ad blockers

Wikia is not accessible if you've made further modifications. Remove the custom ad blocker rule(s) and the page will load as expected.