The following page(s) contains fictitious world events as background material for the Twilight:2000 role-playing game. These events should not be confused with their real life counterparts. People and places shown should in no way be thought of as accurate representations of anything living, dead or undead.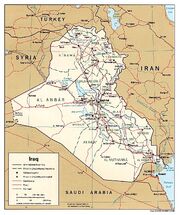 Iraq (Arabic: العراق Al-ʾIrāq), officially the Republic of Iraq (Arabic: جمهورية العراق Jumhūrīyat Al-ʾIrāq) is a country in the Middle East.
Geography
Edit
Iraq is located in Western Asia and spans the northwestern end of the Zagros mountain range, the eastern part of the Syrian Desert and the northern part of the Arabian Desert. It shares borders with Kuwait and Saudi Arabia to the south, Jordan to the west, Syria to the northwest, Turkey to the north, and Iran to the east.
Iraq has a very narrow section of coastline measuring 58km (35 miles) between Umm Qasr and Al Faw on the Persian Gulf. There are two major flowing rivers: the Tigris and the Euphrates. These provide Iraq with agriculturally capable land and contrast with the desert landscape that covers most of Western Asia.
Iran–Iraq War
Edit
Gulf War
Edit
Twilight 2000 1st edition canon
Edit
See also
Edit
Ad blocker interference detected!
Wikia is a free-to-use site that makes money from advertising. We have a modified experience for viewers using ad blockers

Wikia is not accessible if you've made further modifications. Remove the custom ad blocker rule(s) and the page will load as expected.