| | |
| --- | --- |
| This page includes content suitable for the 1st edition timeline. It may not be relevant to other timelines. | |
| | |
| --- | --- |
| This page includes content suitable for the 2nd edition timeline. It may not be relevant to other timelines. | |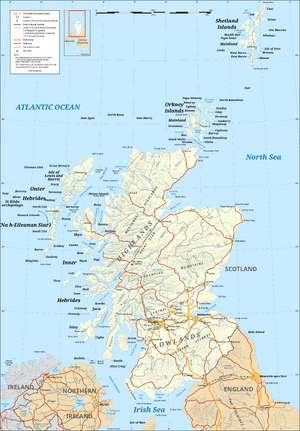 Until 1998, Scotland was a part of the United Kingdom, but the Scottish Nationalist Party (SNP) declared independence in February 1998, and established the Royal Army of Scotland (RAS). The RAS managed to keep the peace between the towns, and found itself fighting various marauder groups, the largest one being known as the Tartan Army.
Military Forces
Edit
Royal Army of Scotland
Edit
Strength: 2,000 men, divided into six battalions and an elite Rapid Action Force (RAF)
Armoured Battalion based at Stirling, with six Chieftains and five Scorpions
Tartan Army
Edit
An alliance of marauder groups, formed in the spring of 1998 by Stuart Harris. It attempted to move south, but was beaten by the Red Devils and retreated back to the Anglo-Scottish border.
The Tartan Army is led by a War Committee, with a member representing each of the nine separate marauder units. The organization of each of the groups varies, but most are organised on basic military lines. The main forces are the Celt Rangers, Hadrians Army and the New Jacobites.
Stuart Harris, the original leader of the War Comittee, was killed in a car crash in September 2000. Bruce Murray, his best friend, took over.
Marauder Groups
Edit
Nuclear Targets
Edit
Ad blocker interference detected!
Wikia is a free-to-use site that makes money from advertising. We have a modified experience for viewers using ad blockers

Wikia is not accessible if you've made further modifications. Remove the custom ad blocker rule(s) and the page will load as expected.