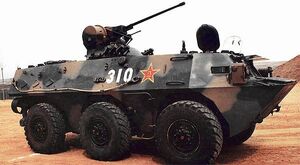 The WZ551 is a Chinese wheeled armored personnel carrier. It is actually consisted of two families of vehicles with official designations in the People's Liberation Army as Type 90 and Type 92. Roughly 600 WZ551s are in service with the PLA, where they are used by light mechanized infantry units. WZ551s have been exported to Sri Lanka and Pakistan but also to Algeria and Bosnia in small numbers.
3rd Edition Stats
Edit
Wz551 APC
Barter Value: GG100,000 Street Price: $200,000
Configuration: Crew in Hull
Suspension: Off Road
Crew: 2 (D, C)+11
Cargo: 1.6 tons
Weight: 14.7 tons
Travel Speed: 30/15 km/hr
Combat Speed: 83/42 m
Fuel: 290 (Diesel)
Fuel Cons: 24 L/hr
Maintenance: 12
Armor: HF: 4, HS:3, HR: 3; TF: 3, TS: 3, TR: 3; Suspension: 5
Equipment:
  Armament: NSV; coaxial PKM; firing ports(4 left, 4 right; front most on each side will accept a SAW or GPMG).
  Ammo: 1,000 rounds of belted 12.7mm ammo; 1,000 rounds of belted 7.62x54mm ammo; .
  Communications: Military Vehicular Radio; .
  Sensors: Headlights; night vision system (C, D); .
  Aux: Amphibious running gear.
Ad blocker interference detected!
Wikia is a free-to-use site that makes money from advertising. We have a modified experience for viewers using ad blockers

Wikia is not accessible if you've made further modifications. Remove the custom ad blocker rule(s) and the page will load as expected.